13.1

How to Read a Computer's Password
13.1.1

Opening OVERLAPS and Logging In
When you first navigate your web browser to the OVERLAPS URL setup by your Service Desk team you will be presented with the OVERLAPS login page.
Enter your username and password here and (if appropriate) select your Active Directory domain, then click on the Login button. Alternatively, click the Login using Windows Authentication to use Windows Integrated Authentication to login. Depending on your setup, this will either prompt you for your credentials or log you in automatically with your Windows credentials by using Kerberos.
Once logged in, you will be taken to the computer list page.
13.1.2

Navigating Computers and Containers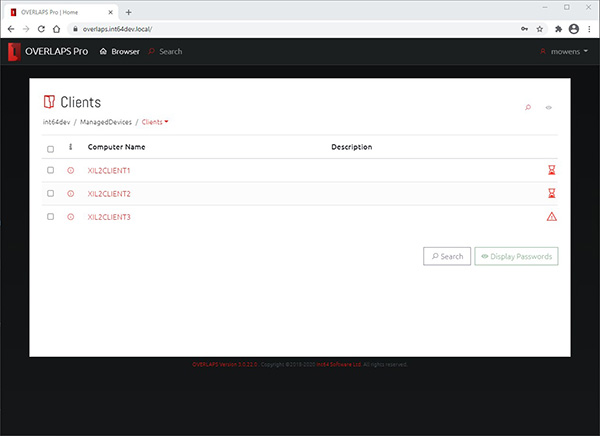 There are a number of ways you can navigate through Active Directory containers:
Clicking the Browser button will show you the Active Directory tree of containers that you have permission to access. This can be seen below.

OVERLAPS Active Directory Browser

Clicking any of the red containers except the last (current) one in the breadcrumb list above the computer list will take you to that container. If a container name is black then you do not have permission to access it.
Clicking the last element in the breadcrumb list will show a dropdown of any child containers of the currently open container for you to navigate to.

Selecting Child Containers

Clicking either the Search button in the main menu or in the Computer List will show you a search window for locating computers by their name.
13.1.3

Viewing a Computer's Password

Clicking the name of any computer in a container will open the Current LAPS Password window. Depending on your permissions, you will see one of two things:
13.1.3.1

Authorisation Required
If your Service Desk have specified that you are required to make an Authorisation Request before viewing a password you will first have to enter your justification for requesting this password and submit this. The request will then be flagged with the user or users who have been nominated to grant requests for this container. Once they have granted your request, you will get to view the password.
13.1.3.2

Authorisation Not Required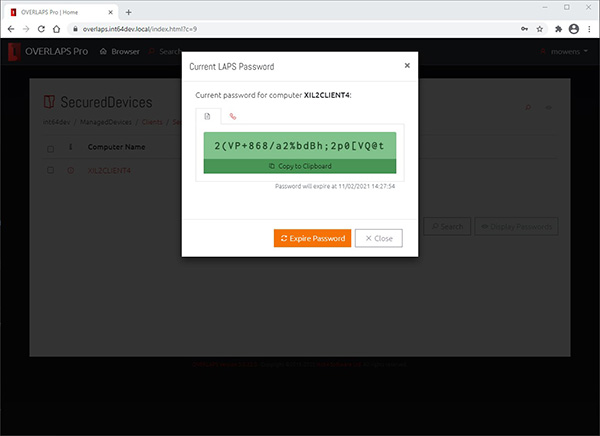 If no authorisation is required, or if you have already been granted permission, then the current LAPS password will be displayed as shown above.
Clicking the

icon will switch to the Phonetic Password view tab.