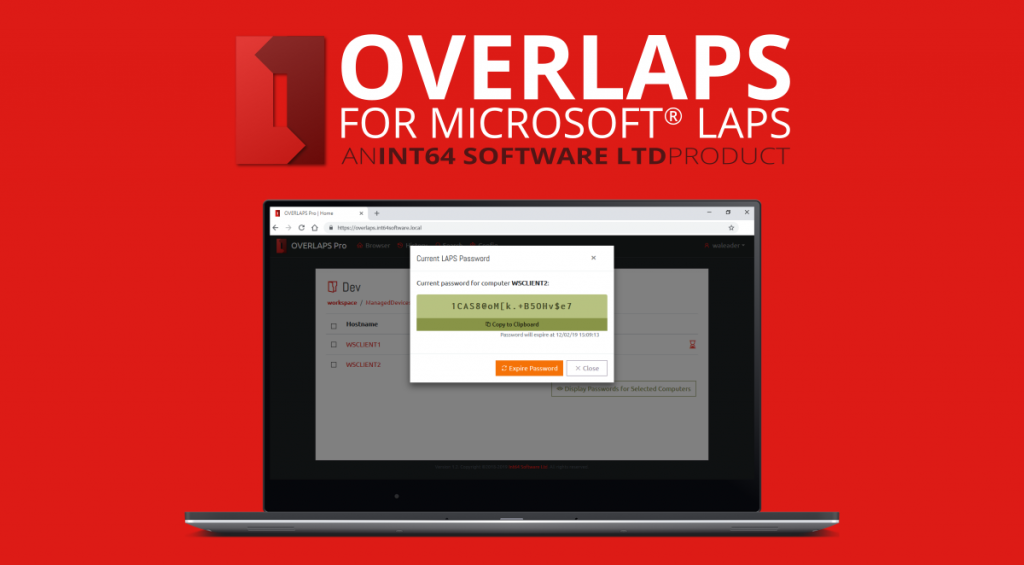 OVERLAPS for Microsoft LAPS Update 2.1.0
We have released a rollup update for OVERLAPS which consolidates all of the hotfixes released since version 2.0 was released. For a full change log please continue reading. Otherwise you can download the update from your Download page on the OVERLAPS website.
All updates are completely standalone and do not require each previous update to be installed first, so you can jump straight to version 2.1 regardless of your currently installed version.
Change Log
15th May 2020 – Version 2.1.0.0
This is a rollup update which consolidates all of the hotfixes included in the recent minor updates (see below).
15th May 2020 – Version 2.0.9.0
Fixed a bug in the Rate Limit calculations for group members and improved the method of combining Rate Limits for members of multiple groups.
14th May 2020 – Version 2.0.8.0
Changed Two Factor Authentication (2FA) handling so that changing the identifier no longer requires all user accounts to have 2FA disabled.
Increased 2FA key length for improved resilience (users will need to disable/re-enable 2FA to make use of this)
Fixed a typo in 2FA enable window
Added the ability to disable 2FA on individual group members
11th May 2020 – Version 2.0.7.0
Fixed a bug in the Self Service (SS) Managed-By handler which may have caused computers to not be populated for some SS users in some environments.
30th April 2020 – Version 2.0.6.0
Changed licence handling so that a service restart is no longer required after installing your licence file.
Fixed a bug where in Two-Factor Authentication (2FA) remembering your current device was being carried over when disabling and re-enabling 2FA.
Added the ability to change your identifier in the Authenticator app for 2FA to support sites with multiple installs of OVERLAPS.
Added a GUI-based database upgrade tool to the installer
Added a GUI configuration tool
Added an option to display a larger password dialogue to improve support for configurations which use LAPS generated passwords of 27 characters or more.
Logging will now automatically default to Verbose for 1 week after installing any update to aid in debugging any problems that occur.
After this time it will go back to the level specified in the config file.
Restored homepage authorisation handler to add additional logging around authorisation failures.
Added more explanatory error information around authorisation failures.
28th April 2020 – Version 2.0.5.0
Added additional service shutdown checks during upgrade process to minimise the possibility of encountering file or database locks.
Improved handling of service shutdown while management workers are performing lengthy tasks.
9th April 2020 – Version 2.0.4.0
Fixed the link back to OVERLAPS in Authorisation Request emails.
Removed the required property from the SMTP server's username and password values for internal servers which do not require authentication.
8th April 2020 – Version 2.0.3.0
Fixed an issue with Active Directory usernames which contain extended ASCII characters.
Added the option to allow Self Service users to read the passwords of any computers which they are listed as the manager of with the "Managed By" property in AD.
3rd April 2020 – Version 2.0.2.0
Fixed a computer search issue when the LAPS properties could not be read.
Made changes to the Log Level setting applying without the need for a service restart.
31st March 2020 – Version 2.0.1.0
Fixed an issue which was causing problems in domains which used a hyphen in one of their Domain Components (DC)
Fixed an issue when logging out after logging in using WIA
Fixed a minor security reporting flaw in dynamic content loader
Like the article? Share with your friends: