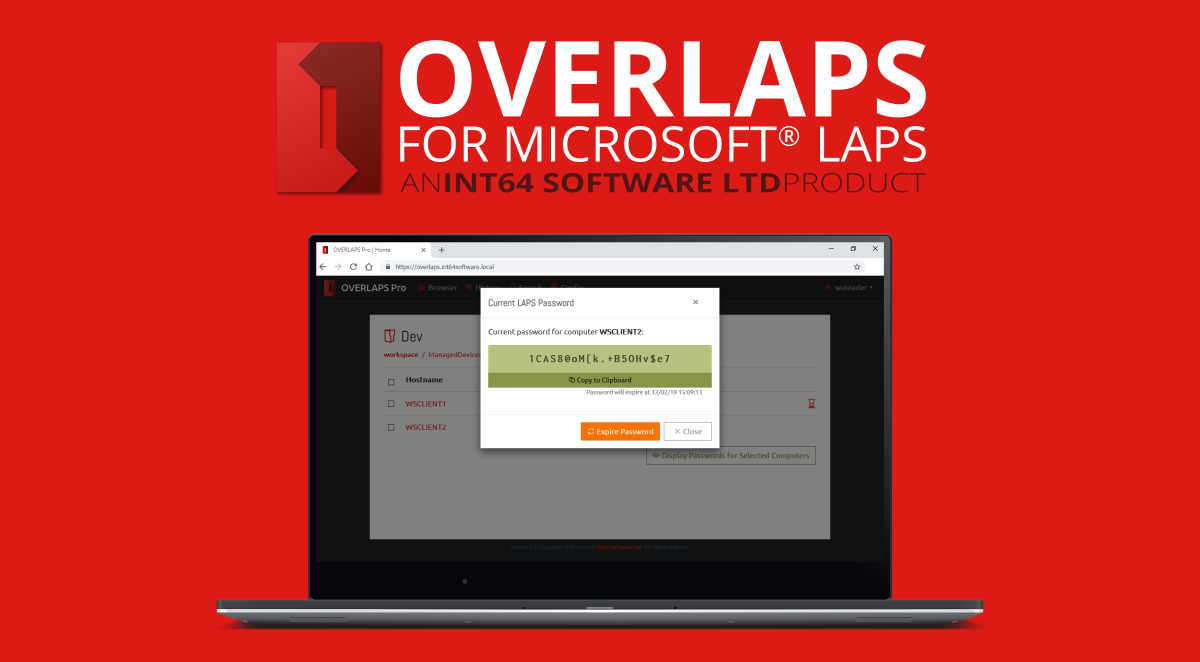 OVERLAPS for Microsoft LAPS Update 1.3.5
Introduction
We are pleased to announce the release of update 1.3.5 for OVERLAPS, our powerful web-based UI for Microsoft's Local Administrator Password Solution (LAPS) environments.
This is classed as a Security Update as it includes important security fixes, as well as bringing you a selection of new and improved things within LAPS and fixing a few minor bugs. For more information, please continue reading.
Where to get it
New and Existing customers will find the OVERLAPS 1.3.5 download available in their Downloads section from today. The upgrade procedure is simple and will preserve all of your existing settings.
Demo version
The OVERLAPS demo version available here has also been updated to version 1.3.5 and includes all of the features and fixes shown in this article.
Security Fixes
It has been brought to our attention that in some environments the Kerberos encryption on the connection between the OVERLAPS server and Domain Controllers wasn't 100% reliable.
In order to resolve this regardless of Active Directory environment setup, we have taken steps to ensure this connection is now properly and forcibly encrypted.
New OVERLAPS Features
Self-Service Mode
This update marks the first (early) release of our Self-Service Mode.
This new feature allows administrators to assign specific computers to users, allowing them access to the Local Administrator passwords of those computers without having to grant them access to an entire Organisational Unit.

This can be great for companies that want to grant access to staff outside of their IT departments for one or two machines. Or it can be combined with the last major update's User Rate Limit feature to put limited control into the hands of trusted members of staff.
Improved Date/Time Support
OVERLAPS will now default to your server's local timezone and date format.
If this isn't wanted, the timezone can be returned to UTC (and is properly marked as such) from the Configuration page.
If you want to change the date format, an alternative can be selected from a small range of built-in examples if desired, or it can be fully customised from within the config file.
Configuration Warnings
We've added warnings to the Host Configuration page if HTTPS isn't enabled yet, or if it has been but HTTP is still open. We'd like to remind our customers that, as per the Setup Guide, it is highly recommended to setup SSL/TLS encrpyion in order to fully protect your users' accounts and the security of your computer network.
Bug Fixes
No major bug fixes were implemented in this update.
Like the article? Share with your friends: